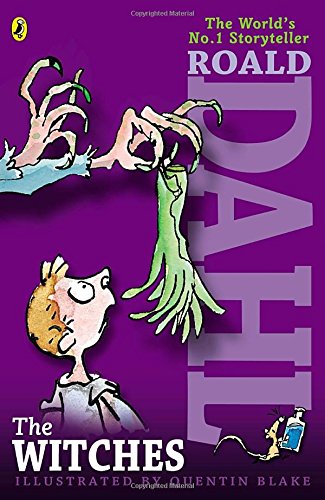 Wow! What a strange start to 2021, but we are so proud of how well the children have settled into their new way of learning. We've tried to stick as closely as possible to what we would have done with the children if they had been in school this term and it's great that we're able to deliver live lessons every day to help with this (as well as playing lots of games along the way - who would have thought you could play real life spot the difference or do spelling practice through scavenger hunts?!). Our topic this term is Egyptians and we've been using our theme wherever possible in our learning - for example with Mrs Quayle, we've just written some fabulously detailed recounts imagining we were archaeologists working in Egypt.
Watch out for those witches! Or just our play-scripts that we're writing with Mrs Greenbank which are based on our class novel, 'The Witches' by Roald Dahl. After exploring what a play-script is and how to write one, we have been choosing our own film or TV program to write a play-script for. Next, we'll be writing a scene from 'The Witches' using all the techniques we've been practising.
We've been finding out about deserts in Geography and were amazed to discover that Antarctica is actually a desert, yet it has no sand! One of our favourite tasks was to find out how different desert formations are created and made mini information booklets about this. Some of us even made short films showing our work with our own personalised narration explaining the formations.
In Science we have been exploring forces and the impact these have on objects around them. We've looked at the force 'friction' and experimented with different surfaces and the affect it has on a moving object.
PE has been incredibly active with lots of fitness type workouts. The children have shown their true resilience when powering through these workouts and have enjoyed visiting the 'jungle' for a bit of 'I'm a Celebrity Get Me Out of Here' star collecting tasks. Luckily, we also spend some of our time exploring different yoga poses to help us focus our minds and strengthen our core muscles. As we're not all in school to do the daily mile together, we've been doing short dance videos together instead - who knew we had so many talented dancers in our class?!
We often talk in our class about the importance of judging people by what they are like on the inside rather than what they look like on the outside and we've discussed this lots during our RE topic as we've found out more about David - our favourite Bible passage was 1 Samuel 16:7 'The Lord doesn't see things the way you see them. People judge by the outward appearance but the Lord looks at the heart'. We've been combining our Computing and RE lessons to produce different sorts of documents such as making information leaflets about Martin Luther King (who had his own 'Goliath' fight against racism) or creating friendship recipes to explain what we would like to see in a friend (we're going to use this to help us explore the friendship of David and Saul).
So as you can see, although we may only have been back for a few weeks and found ourselves in a new world of live remote lessons, we're not letting this lockdown slow down our learning!